One of my favorite pastimes since I was a philology student in the late eighties has been, rather unsurprisingly, visiting bookstores. In my student town Leuven, I spent hours - and relative tons of money - at Boekhandel Peeters, specialized in the liberal arts. For computing and other so-called hard sciences, Wouters was my preferred place to go. It sadly went bankrupt in 2006, when it was swallowed by the cooperative Acco, itself founded in 1960.
In 1995, just after I started my professional career, Jeff Bezos founded Amazon.com. The brick-and-mortar bookstore as we knew it was indeed never going to be the same as before. In the US, super-bookstore chain Borders didn't adapt fast enough, started going downhill and finally disappeared in 2011. Barnes & Noble gobbled them up.
As much as I appreciate Amazon's search capabilities and limitless offering, I still prefer the smell and touch of physical books and, by extension, bookstores. For the latter, on the condition that they have something extra to offer. That can be a combination of:
a choice adapted to my specialized taste - quality always trumping quantity
a club chair, vital for bringing the buyer reader in the correct mental state
a cup of coffee or tea, with or without madeleine (or similar)
à la limite, silent whispers from the other flâneurs
Yesterday, I was lucky enough to discover such a place in the Librairie Albertine in New York City. The whole atmosphere breathes luxe, calme et volupté, as Charles B. would say.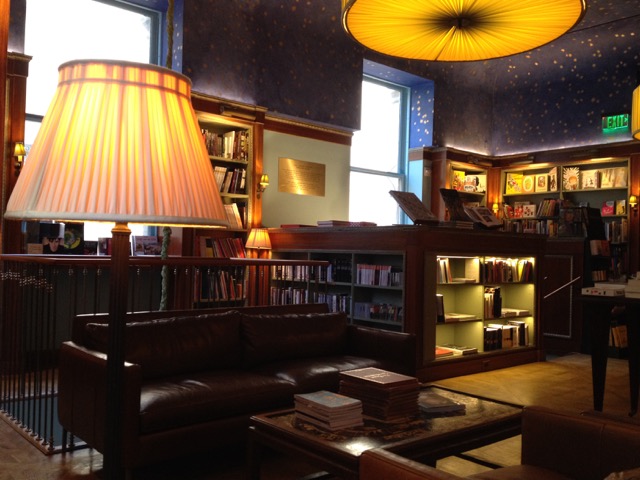 Other bookstores that I have visited and particularly like include:
Ironically, Amazon.com recently announced plans to open hundreds of physical bookstores.
I fear the worst, but hope for the best!
---
Note: article updated on Sun March 7th, 2016